Welcome to Agni Ceramics
AGNI CERAMICS has established in the year of 2005 in Virudhachalam, Tamil Nadu, India; as a joint venture by Mr. R.N.Senguttuvan M.Sc., M.C.A., and Mrs. S.Krishnaveni. This company produces Industrial Ceramic Products and Ceramic wares at high temperature.
We are specializing in Manufacturing and Supplying of high temperature, high alumina Ceramic Honeycomb Filters, Ceramic Tubes and Pipes, Ceramic Heating Elements, Refractory tubes and Pipes, Ceramic / Refractory Casting Tubes can be used in precision foundry works and Industrial Purpose.
Our Products
HONEY COMB CERAMIC FILTER
CERAMIC TUBES
REFRACTORY TUBES
CERAMIC / REFRACTORY CASTING TUBES
CERAMIC HEATING ELEMENTS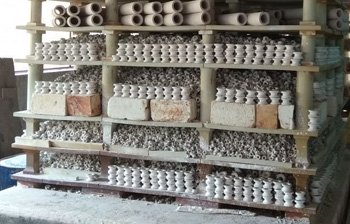 Our Capabilities
We have our own Manufacturing unit with Electric Kiln.